Se muestran los artículos pertenecientes a Octubre de 2011.
A total lunar eclipse took place on June 15, 2011. It was the first of two such eclipses in 2011, the second occurring on December 10, 2011. Read more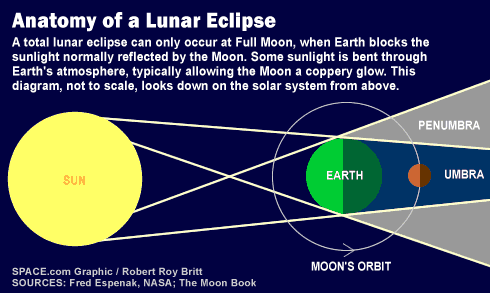 Earth is the only planet whose English name does not derive from Greek or Roman mythology. The name comes from Old English and Germanic language. There are, of course, hundreds of other names for the planet in other languages.
This is the symbol for Earth:

Earth is the third planet from the Sun, and the fifth largest of the nine planets.
---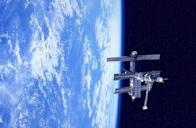 Earth, of course, can be studied without the aid of spacecraft. It was not until the twentieth century that we had maps of the entire planet. Pictures of our planet taken from space are very important! They are a big help in predicting the weather - especially in tracking and predicting hurricanes. They are also extraordinarily beautiful.
The Earth's surface is very

young

. This means that the Earth's surface has changed a lot from when it was first formed. Erosion and tectonic processes (like earthquakes) destroy, recreate and reshape most of the Earth's surface.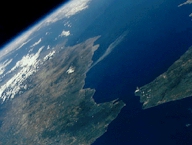 71 % of the Earth's surface is covered with water. Earth is the only planet on which water can exist in liquid form on the surface. Water is essential for life as we know it. The Earth's vast oceans keep temperatures stable - important for life on our planet. Water is also responsible for most of the erosion and weathering of the Earth's continents, a process unique in our solar system.
The Earth's atmosphere is 77% nitrogen, 21% oxygen, with traces of argon, carbon dioxide and water. The carbon dioxide in the Earth's atmosphere is very important. Carbon dioxide helps to maintain the Earth's temperature by way of the "

Greenhouse Effect

." The Greenhouse Effect warms the Earth's temperature; without it, the oceans would freeze and life as we know it would be impossible.
| | |
| --- | --- |
| | Besides being the most interesting and unique of all the planets, our Earth is also the most beautiful. From space, the Earth's white clouds, blue oceans and brown lands seem to shine against the black backdrop of our solar system. |
---

~

Earth is a

small, rocky

planet which supports a variety of life! As far as we know, Earth is unique from all other planets in this respect.

~

Temperatures at the Earth's center (called the "core") may be as high as

7500 K

- That's hotter than the surface of the

Sun

!

~

The Earth is the

densest

major body in the solar system. This means that it's the most "compact" of all the planets. For example, you have two loaves of bread, both of the same amount. You smash one loaf of bread flat. Even though both loaves are of the same amount, the smashed bread is *denser* because it is more compact.

~

The Earth is 4.5 to 4.6

billion

years old, but the oldest known rocks are less than 4 billion years old. Rocks older than 3

billion

years are rare. The oldest fossils of living organisms are less than 3.9 billion years old!

~

The Earth is orbited by one moon.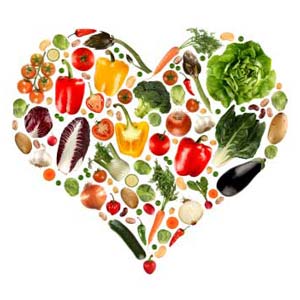 World Food Day falls on 16th October and has been celebrated since 1979. The aim of the day is to make people more aware of the world food problem and to increase solidarity in the fight against hunger, malnutrition and poverty.
Do you know who consumes the highest amount of meat in Europe?
Find the answer to this question and many more surfing in my selection of links.

Happy surfing!!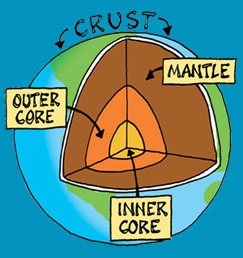 Learn more about the Layers of the Earth and see inside the Earth.
Name is time to play games related to Geology
Enjoy it!!


Halloween es una fiesta de la cultura anglosajona que se celebra en la noche del día 31 de octubre.
Sus orígenes se remontan a los celtas, hace más de 2.500 años, cuando el año celta terminaba al final del verano, el día 31 de octubre de nuestro calendario (Samhain). El ganado era llevado de los prados a los establos para el invierno. Ese último día, se suponía que los espíritus podían salir de los cementerios y apoderarse de los cuerpos de los vivos para resucitar, pedirles alimentos y maldecirles. Les hacían víctimas de conjuros si no accedían a sus peticiones: me das algo o te hago una travesura, que es la traducción de "Trick or Treat" (Truco o Trato).

Para evitarlo, los poblados celtas ensuciaban las casas y las "decoraban" con huesos, calaveras y demás cosas desagradables, de forma que los muertos pasaran de largo asustados. De ahí viene la tradición de decorar con motivos siniestros las casas en la actual víspera de todos los santos y también los disfraces. Es así pues una fiesta asociada a la venida de los dioses paganos a la vida.
La iglesia de Roma decidió convertir la festividad al catolicismo. Se instituyó el 1 de noviembre como el Día de Todos los Santos, que en Inglaterra se denominó "All Hallows' Day", y la noche anterior "All Hallows' Eve" que posteriormente derivó en "Halloween".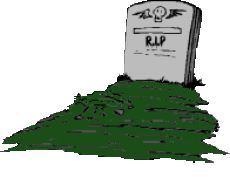 La fiesta fue exportada a los Estados Unidos por emigrantes europeos en el siglo XIX, hacia 1846. Sin embargo no comenzó a celebrarse masivamente hasta 1921. Ese año se celebró el primer desfile de Halloween en Minnesota y luego le siguieron otros estados. La internacionalización de Halloween se produjo a finales de los años 70 y principios de los 80 gracias al cine y a las series de televisión.

En la actualidad los niños se disfrazan para la ocasión y pasean por las calles pidiendo dulces de puerta en puerta. Después de llamar a la puerta los niños pronuncian la frase "Truco o trato". Si los adultos les dan caramelos, dinero o cualquier otro tipo de recompensa, se interpreta que han aceptado el trato. Si por el contrario se niegan, los chicos les gastarán una pequeña broma.

Halloween es una fiesta basada en el miedo, la muerte, los muertos vivientes, la magia negra y los monstruos místicos. Los "personajes" que se suelen asociar a Halloween incluyen a los fantasmas, las brujas, los gatos negros, los trasgos, los banshees, los zombis y los demonios, así como ciertas figuras literarias como Drácula y el monstruo de Frankenstein.
Los celtas solían disfrazarse con pieles de animales el 31 de octubre y así no ser descubiertos por los espíritus que, según ellos, esa noche recobraban vida. De ahí la costumbre actual de disfrazarse ese día. Los colores tradicionales de Halloween son el negro de la noche y el naranja de las primeras luces del día. Los símbolos de Halloween también incluyen elementos otoñales como las calabazas y los espantapájaros.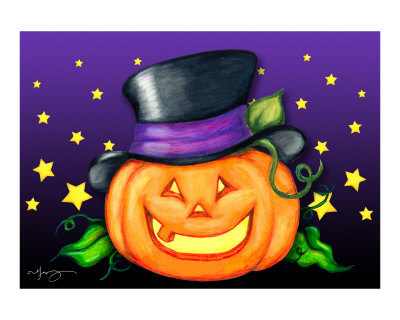 How much do you know about Halloween already?
Learn more and test your knowledge by doing the task proposed in this HALLOWEEN WEBQUEST created just for you.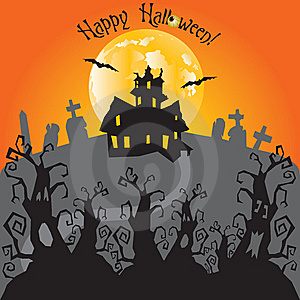 Dare you enter the Haunted House?
I spy with my little eye something beginning with ... in the Haunted House... CLICK HERE TO PLAY
and carry on having fun in with all the Halloween activities of the BRITISH COUNCIL.
To have fun

Q. What do you call two witches living together?
A. Broommates.
Q. What is a Mummie's favourite type of music?
A. Wrap!
Q. Why didn't the skeleton go to the halloween party?
A. Because he had no body to go with.
http://www.halloween.com/halloween-jokes-1.php
Visit the following websites and enjoy yourself:
Help the kids find their way to the house... PLAY THE GAME

2011 Pumpkin Contest
<_script type="text/javascript">(function() { var scribd = document.createElement("script"); scribd.type = "text/javascript"; scribd.async = true; scribd.src = "http://www.scribd.com/javascripts/embed_code/inject.js"; var s = document.getElementsByTagName("script")[0]; s.parentNode.insertBefore(scribd, s); })();
Our 2nd Pumpkin Contest has been a TERRIFIC SUCCESS!!
Your imagination goes beyond the carving itself!!
Now...

...have a SUPER-ULTRA-SPOOKY-HALLOWEEN!!!

How to play: Drag pieces of candy into the pumpkin's mouth to see how quickly the calories climb! We'll tell you when you've fed the pumpkin a day's worth of calories. And if you get too much candy this year, consider giving it away, using it to make crafts, or even experimenting on it!

Are you one of those fearless ones???
Click here to have a HALLORIFIC experience and check how brave you can be...