Se muestran los artículos pertenecientes a Diciembre de 2011.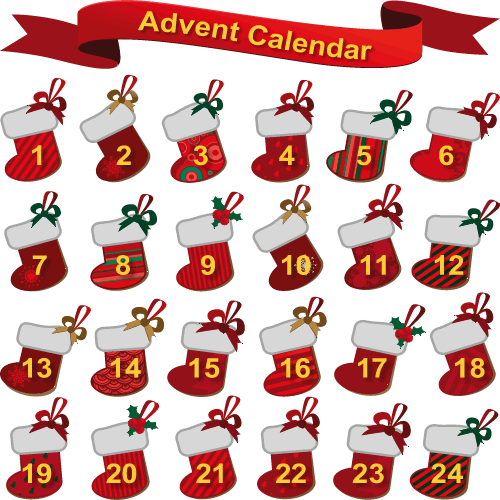 Click here to have your own on-line ADVENT CALENDAR and learn more about Christmas.
El territorio total de España es de 504.645 km², y ocupa gran parte de la Península Ibérica. Es también el cuarto país en extensión dentro de Europa. Al territorio peninsular se le suman: las Islas Baleares ( en el mar Mediterráneo), las Islas Canarias (en el Océano Atlántico), las ciudades autónomas de Ceuta y Melilla (en la costa norte de África), las islas Chafarinas, el peñón de Vélez de la Gomera, el peñón de Alhucemas, el municipio de Llívia (rodeado por Francia), la isla de Alborán, las islas Columbretes y varios islas e islotes frente a las costas peninsulares.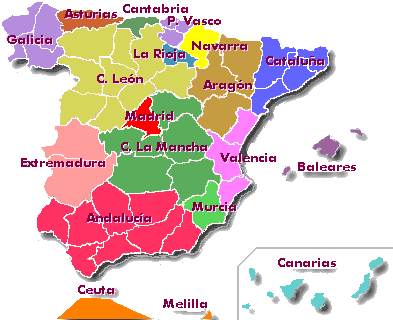 Las comunidades autónomas españolas son 17. Aquí os dejamos la lista de las comunidades autónomas y sus capitales:
Andalucía
Capital de la Comunidad: Sevilla

Aragón
Capital de la Comunidad: Zaragoza

Canarias
Capital de la Comunidad: Las Palmas de Gran Canaria / Tenerife

Cantabria
Capital de la Comunidad: Santander
Castilla y León
Capital de la Comunidad: Valladolid

Castilla-La Mancha
Capital de la Comunidad: Toledo

Cataluña
Capital de la Comunidad: Barcelona
Comunidad de Madrid
Capital de la Comunidad: Madrid
Comunidad Foral de Navarra
Capital de la Comunidad: Pamplona

Comunidad Valenciana
Capital de la Comunidad: Valencia

Extremadura
Capital de la Comunidad: Mérida

Galicia
Capital de la Comunidad: Santiago de Compostela

Islas Baleares
Capital de la Comunidad: Palma de Mallorca

La Rioja
Capital de la Comunidad: Logroño

País Vasco
Capital de la Comunidad: Vitoria

Principado de Asturias
Capital de la Comunidad: Oviedo
Región de Murcia
Murcia

Ciudad Autónoma de Ceuta
Ciudad Autónoma de Melilla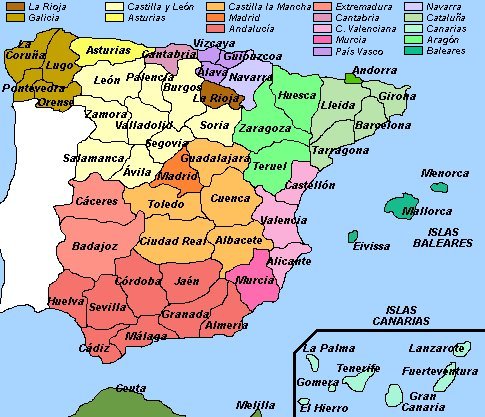 España cuenta con 50 provincias en las que se divide el país, y las ciudades autónomas de Ceuta y Melilla. Este es el listado de provincias españolas:
Álava
Albacete
Alicante
Almería
Asturias
Ávila
Badajoz
Barcelona
Burgos
Cáceres
Cádiz
Cantabria
Castellón
Ceuta
Ciudad Real
Córdoba
Cuenca
Gerona
Granada
Guadalajara
Guipúzcoa
Huelva
Huesca
Islas Baleares
Jaén
La Coruña
La Rioja
Las Palmas
León
Lérida
Lugo
Madrid
Málaga
Melilla
Murcia
Navarra
Orense
Palencia
Pontevedra
S.C. de Tenerife
Salamanca
Segovia
Sevilla
Soria
Tarragona
Teruel
Toledo
Valencia
Valladolid
Vizcaya
Zamora
Zaragoza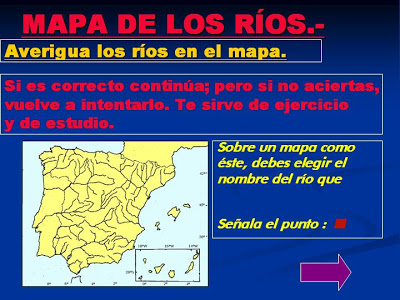 ¿Quieres jugar a los ríos? Ahora puedes averiguar cuál es cada río; sólo tienes que elegir una respuesta de las tres opciones que te doy. Si aciertas, pasas a la siguiente pregunta; pero es caso contrario, repites el mismo mapa hasta que aciertes.
Es muy sencillo y divertido. te lo pasarás muy bien. Se tarda poco en hacer.
¡ Inténtalo !

Descárgate el archivo, así lo tendrás siempre en tu ordenador, y podrás practicarlo las veces que quieras.
On the 7th day of Christmas my true love gave to me...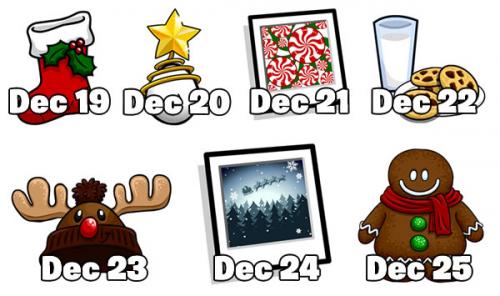 On the 6th day of Christmas my true love game to me....
Play Santa's On-Line Christmas Games, read Stories, Poems & Christmas Jokes, or send a letter to Santa. Santa's Kids Zone

On the 5th day of Christmas my true love gave to me...
WHAT IS CHRISTMAS ALL ABOUT?
Christmas is the date set aside for the celebration of the birth of Jesus Christ. Christians celebrate it on December 25th all over the world. Jesus was not born on December 25th exactly but this date was chosen to coincide with the pagan Roman celebrations honoring Saturnus (Harvest God) and Mithras (Ancient God of Light). The day of this celebrations came just after the winter solstice, that is the shortest day of the year in the northern hemisphere. The celebrations were to make known that winter is not forever. It was a form of worshiping the sun.
Jesus was born nearly 2000 years ago. To the Christians, Jesus is the Son of God and the Savior/Saviour of the world. The Christians believe that He came to die for our sins so that we may go to heaven.
WHAT DOES THE WORD "CHRISTMAS" MEAN?
Christmas actually comes from "Mass of Christ". It was however shortened to "Christ Mass". Sometimes the shorter version "Xmas" is also used.
WHAT IS BOXING DAY?
Boxing Day is the day right after Christmas. This December 26 holiday is observed in England, Australia, Canada and New Zealand. It is a day of giving to the less fortunate and charitable institutions in the form of money and gifts. Some will spend the day doing volunteer work. It is called Boxing Day because it was the custom during those days for tradesmen to collect their Christmas boxes (gifts) in return for their good and reliable service throughout the year.
Today, Boxing Day is celebrated with family and friends with lots of fun, food and friendship.
WHO IS SANTA CLAUS?
Who is St. Nicholas?

CHRISTMAS SYMBOLS
Christmas is also a time where homes and malls are decorated with all kinds of decorations. Most of the decorations are symbols of Christmas. Without them, it would seem something is missing. Find out more about these symbols here.
DO ALL COUNTRIES CELEBRATE CHRISTMAS ON THE SAME DAY?
Find out more here.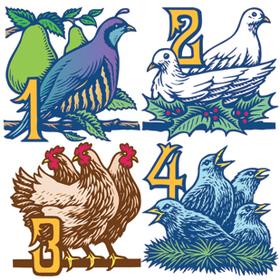 On the 4th day of Christmas my true love gave to me...
Christmas Songs, Christmas carols, and music for the Holiday Season with lyrics and music to listen to. About 140 Christmas songs listed alphabetically.
On the 3rd day of Christmas my true love gave to me...
The Christmas Story - as told by the children of St Paul's Church, Auckland (New Zealand).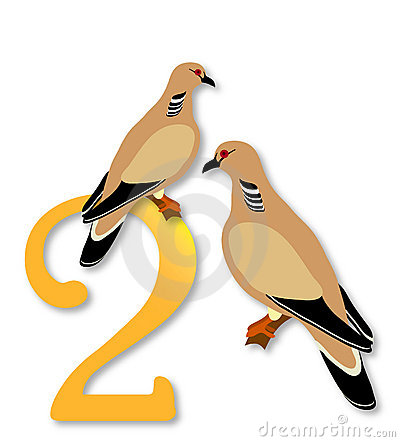 On the 2nd day of Christmas my true love gave to me...
Learn about Christmas in England.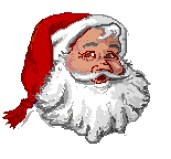 Facts about Father Christmas
Father Christmas has two addresses, Edinburgh and the North Pole. Letters addressed to 'TOYLAND' or 'SNOWLAND' go to Edinburgh, but letters addressed to 'THE NORTH POLE' have to be sent there because there really is such a place!


What are the names of Santa's reindeer?
Father Christmas' reindeers are called Dasher, Dancer, Prancer, Vixen, Comet, Cupid, Donner/Donder, Blitzen, and Rudolph. Eight of these names are taken from Clement C. Moore's "A Visit From St. Nicholas," and the ninth from the song "Rudolph the Red-Nosed Reindeer" (NB. Donder is also known as Donner.)

Carry on reading here.