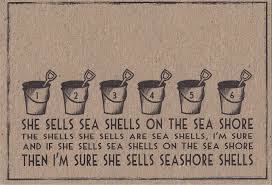 She sells sea shells

She sells sea shells on the sea shore;

The shells that she sells are sea shells I'm sure.

So if she sells sea shells on the sea shore,

I'm sure that the shells are sea shore shells.
Comentarios » Ir a formulario
Autor: Jimena 6c
is very dificult to read and is very funny

Fecha: 06/11/2014 16:25.
---
Autor: Lucas 6c
I tried to say it with my mum and it was very difficult
Fecha: 07/11/2014 22:13.
---
Autor: Carla
It's very difficult

Fecha: 08/11/2014 13:19.
---
Autor: Alba
Its very funny I like it very much.Please put more tongue twisters.
Fecha: 10/11/2014 21:59.
---